Desperately Seeking Sons: James, Madeleine and Mary
Posted on
King James V came into his inheritance at the tender age of 18 months, after his father died at the Battle of Flodden. His youth was spent with various Scottish Lords, including his stepfather, fighting out for custody and control of the young King. At the age of sixteen he managed to escape his stepfather and declared his minority over, although he still struggled against competing factions at his court.
Various marriages were proposed for the young King, including Catherine de Medici (who would become Queen of France), the widowed Mary of Hungry (who refused as she had loved her first husband too much to consider remarrying), and James' cousin the English princess Mary Tudor (daughter of Henry VIII and Catherine of Aragon).
But ultimately the Treaty of Rouen, signed with the French, promised a French princess for the King. However negotiations for a French match ultimately led to an agreement for James to marry Mary of Bourbon, who would be given a dowry the equivalent of a princess to make up for her lack of close royal blood. In September 1536 James sailed from Scotland to visit France and meet his proposed bride in person.
Madeleine of Valois
As the daughter of King Francis I of France and his wife Claude, Duchess of Brittany in her own right (and technically Queen of France in her own right, her father was the late King), Madeleine of Valois grew up in a wealthy and cultured court. Her paternal aunt Marguerite and her paternal grandmother Louise of Savoy were highly educated women. Marguerite became Queen of Navarre and was famous for her learning, while Louise had a reputation as a diplomat and acted as regent several times while Francis was at war.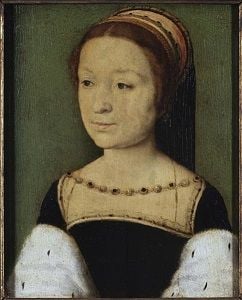 With rolemodels like this it's no wonder that Madeleine would declare that she wanted to be a Queen. But like many of her siblings she was in poor health. Of her six siblings, Louise and Charlotte had died in childhood, and Francis died aged 18. Madeleine's health was so poor that she was raised with her younger sister Margaret in the warmer climate of the Loire Valley.
In the long run though it didn't help. By the time she was teenager Madeleine hacontracted tuberculosis. She may have caught it in childhood, or perhaps her weak immune system meant she was particularly susceptible to infection. There was no cure, and all that could be done for her was to keep her away from the risk of making it worse, such as avoiding the cold and damp.
When King James arrived in France to see his future bride, Mary of Bourbon, he instead fell in love with Princess Madeleine. But when he asked permission to marry her instead King Francis refused. Scotland was a damp and cold country, exactly the kind of conditions that would make her health worse. That might have been the end of the matter if it hadn't been for Madeleine herself. She wanted to be Queen and James had a crown for her. Francis, her family, and the court all tried to dissuade her but she and James had fallen in love and insisted they wanted to be together.

In the end Francis relented. The wedding was held on 1st January 1537 in the great Notre Dame Cathedral in Paris. The usual feasting and celebrations were held, and then everyone began a long, slow journey to the north coast to embark for Scotland. Already there were worrying signs that all wasn't well with Madeleine. By the time they reached Rouen she was so ill that they had to wait a month for her to be sufficiently recovered before moving on.
On 11th May Madeleine and James boarded the ship at Dieppe that would take them to Madeleine's new home. After several days of bad weather that delayed them further, they arrived at Leith on the 19th, where Madeleine promptly sank down and kissed the sand, grateful that they had survived the journey.
The Scots took a shine to their new Queen, but in the background her health continued to cause problems. Letters were dispatched to her father asking him to send another French doctor for her, while James held regular consultations with his own medical team about his wife's health. Despite this plans were made for her coronation. On 8th June Madeleine wrote to her father stating that she felt much better, but a month later she took a turn for the worst and died at Holyroodhouse Palace with her husband at her side. James had her buried at Holyroodhouse Abbey and mourned her sincerely, but he was still childless and now the pressure was on to find a replacement wife as quickly as possible.
Mary of Guise
James may have been hoping that he could have Madeleine's sister Margaret as his second wife, but if he did then Francis was opposed to the idea. Margaret was his last surviving daughter and he had no intention of sending her off to Scotland to die like her sister. Instead he proposed an alternative bride – the recently widowed Mary of Guise.

Mary was one of twelve children of Claude of Lorraine, Duke of Guise, and his wife Antoinette de Bourbon. As a child she was sent to live with her paternal grandmother in a convent at Pont a Mousson. She was given an excellent education, and her parents may have intended for her to dedicate her life to God and become an Abbess. But when her uncle and aunt visited when she was fourteen and found a beautiful, intelligent, and very tall niece. At 5 foot 11 Mary stood out from the crowd, and her uncle saw the possibilities that could come with a niece that commanded attention.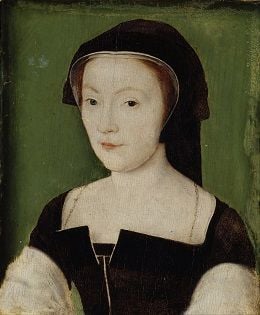 In 1531 Mary was presented at the French court by her uncle, and joined the household of Francis' new Queen Eleanor of Austria. In August 1534 she was married to Louis d'Orleans, Duke of Longueville. The pair fell into a pattern of serving the French court during the colder months, and spending the summer travelling through their estates. A son named Francis was born in October 1535.
Mary appears to have been friends with Princess Madeleine, she certainly knew her through serving in Queen Eleanor's household. As courtiers she and her husband attended the court when King James of Scotland arrived to claim his bride, and they were part of the wedding party in January 1537. Mary was in the early months of her second pregnancy, and once the happy couple had been waved off from court she returned to her husband's estates. Although she didn't know it at the time, 1537 was to be a year of immense change for her.
First, her husband Louis passed away. After taking a trip through Normandy without his wife he was supposed to join her, but fell ill in June. Although he was well enough to write to her telling her his doctors believed he had chicken pox, within days he had died. Mary was distraught at his loss, and kept his last letter to her for the rest of her life (it can now be found at the National Library of Scotland). In July she was informed that her friend Madeleine had died in Scotland. Her second son, named Louis after his dead father, was born in August.
She was still physically recovering from giving birth when she received a letter from King Francis informing her that she had been chosen to marry the widowed King James. In mourning for a husband who she appears to have had a loving relationship with, Mary was horrified at how quickly she was to be rushed into marriage. Not only that, but her father was refusing to pay her dowry and tried to insist that her son's lands be used to finance it. This would rob her son of his inheritance from her father, and it was only after she protested that Francis paid a share and ordered her father to stump up the rest.
To make things more complicated, when Henry VIII discovered that James had chosen another French wife he attempted to propose to her himself. Luckily for her Francis declined the offer and stuck with James, and Henry had to find an alternative.
Poor Mary was dealt one last blow when baby Louis died in December, at just four months old. But events proceeded despite her grief. She and James were officially betrothed in May 1538, and in June Mary left her only son Francis in the care of her mother, and boarded a ship for Scotland. A day after arriving at Fife she and James were married at the cathedral at St Andrews, and after the usual celebrations went on a tour so Mary could see her new properties.
She was probably homesick, anxious about her son, and still grieving for her first husband, but Mary managed to hide it well. She praised her new home, admired her new lands, began learning to speak Scots, and developed good relationships with James' illegitimate children, even taking one of his daughters into her household. Within a year she was pregnant, and in May 1540 she gave James a healthy, legitimate son. The boy was named James and was given the title Duke of Rothesay, the traditional title for the heir to the Scottish throne.
Two months later Mary fell pregnant again. A second son named Robert, and titled Duke of Albany, was born in April 1541. But a week later the Royal family was delivered a double blow. Prince James, who was being cared for at Stirling Castle, suddenly fell ill and died, and baby Robert passed away less than a day later. Their sudden deaths were rumoured to be caused by poison, but in a time of high infant mortality it was just as likely to be bad luck. The boys were buried together in the same vault as Queen Madeleine at Holyrood Abbey.
A marriage that seemed to have started off well now faltered. James' mother Margaret Tudor died, and while he was away sorting out her affairs the court gossips whispered to Mary that he was entertaining a mistress, while those who had attended him reported rumours that Mary was being unfaithful in his absence.
James was paranoid about his own courtiers, unsure if they had poisoned his sons and were plotting against him. To make things worse King Henry VIII was agitating for a war against Scotland, and in 1542 he sent his army to the border. Mary was pregnant again when James left her to lead his own troops. Despite Scotland's hopes, James was defeated at the Battle of Solway Moss, and while he wasn't injured in the battle he appears to have suffered a nervous breakdown. He finally settled at Falkland, where he fell ill. Mary gave birth to a daughter on 8th December 1542 at Linlithgow Palace, six days later the baby became Queen of Scots when James died.
With the Queen still recovering from the birth it was easy for the Scottish lords to set her aside. James Hamilton, Earl of Arran, was named Regent. Arran agreed the Treaties of Greenwich with England which saw the baby Queen of Scots betrothed to King Henry VIII's only son Prince Edward. But by December 1543 the Scottish Cardinal David Beaton, himself a contender for the regency, had convinced him to not only change his mind, but return to an alliance with France. This led to the start of the "Roughing Wooing" (which lasted for over 7 years), which kicked off with England's Earl of Hertford invading Scotland and sacking Holyroodhouse, desecrating the Abbey where Mary of Guise's two dead sons lay with their father.
In the following years Mary tried, and failed to remove Arran, but was made a member of a council set up to advise him. Attacks from England continued, and Scotland became increasingly unstable as more Scots converted to Protestantism. The country split between those who looked to England for help, and those who wanted to maintain the traditional alliance with Catholic France. It wasn't hard to guess which side Mary of Guise stood on.
In 1547 both Henry VIII and King Francis of France died within 4 months of each other. The French King was now Henri II, whom Mary had known from her days in the French court. After Scotland was defeated at the Battle of Pinkie Cleugh Henri decided to up the stakes. He proposed that the Queen of Scots be sent to France to be raised in the French court and married to his eldest son the Dauphin. Mary was terrified of letting her daughter go, but the risk to her from more invading English armies was too great, and the young Queen was spirited away in 1548.
In July that year Mary narrowly escaped death. The English had captured Haddington and Mary persuaded Arran that Scottish and French troops should besiege it. As she approached a church to climb the tower and get a good look at the siege one of the English cannons was fired in her direction. While Mary escaped unharmed sixteen members of her entourage were badly injured and several died. It was a sharp lesson that even a Dowager Queen of Scotland was not safe.
In March 1550 England and France finally signed the Treaty of Boulogne, in which the English agreed to leave the Scots in peace. With the war now over Mary felt able to travel to France to check on her eight year old daughter in the French court and also see her son Francis, from her first marriage, who was now fifteen. She arrived in France in September 1550, and ended up staying for a year. She visited her childhood home, resided with the French court, and spent time with her children. However the end of her visit was marred by the sudden death of her son Francis, who fell ill at Amiens and ended up dying in her arms.

Back in Scotland Mary set about trying to remove Arran as peacefully as possible, in April 1554 she finally won, Arran resigned as Regent and she stepped up in his place. But the Scots were against having a woman as ruler, let alone a foreigner. Getting anything approved was an uphill battle, and the split between Catholic and Protestant grew worse. There was a riot in August 1558 after a Catholic procession was attacked, and in 1559 the preacher John Knox returned to Scotland, more riots following one of his sermons at Perth.

Although Mary tried to subdue the disturbances by summoning an army, she realised she was outnumbered and had to draw back. Her health started to fail under the stress, by August 1559 she was suffering from what may have been heart disease, and was desperately writing to the French to send an army to help her fight the Protestants. Instead in March 1560 England sent support for the Protestants, and Mary took refuge in Edinburgh Castle. She died there on 11th June 1560, with her illegitimate stepson James Stewart at her side.
Two months later parliament declared Scotland to be a Protestant country. As a result Mary couldn't be given a Catholic burial in Holyroodhouse Abbey, next to her husband. Instead in March 1561 her remains were repatriated to France, where she was buried in Rheims at the abbey church where her sister was abbess.
---
Last month's Desperately Seeking Sons was on Baldwin, Godehild, Arda and Adelaide.