Almost Queens: Margaret of Burgundy
Posted on
Many princesses have missed out on the throne due to an early death, whether it was their death or that of their spouse. But in the case of Margaret of Burgundy she lost her chance at a crown due to a scandal that rocked the French court. More than that, her cousin Blanche came unexpectedly close to the crown too, and was brought down by the exact same scandal.
Margaret was the daughter of Duke Robert of Burgundy and his wife Agnes, who was the youngest daughter of King Louis IX of France, and thus a French princess. The third of eight children, Margaret's date of birth is unknown but was probably around 1290.
In 1305 Margaret was married to Prince Louis, the heir to the French throne. The pair were a poorly matched couple. Louis was more interested in sports than his wife, and his nickname "the quarreller" stems from the frequent fights and arguments he had with his father, King Philip IV. However Margaret soon had some friendly faces at court. Louis had two younger brothers, Philip and Charles. Philip was married to Margaret's cousin Joan in 1307, while Charles married Joan's younger sister Blanche in 1308.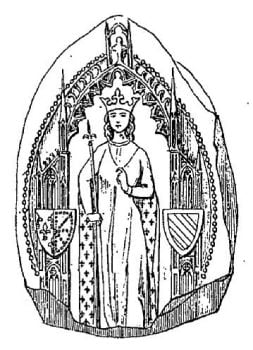 These three appear to have formed their own little court circle. Hardly surprising as they were all related and now all married to the sons of the French king. Margaret gave birth to her only child, a daughter named Jeanne, in 1312. The length of time between Margaret and Louis' wedding and Joan's arrival might suggest that the couple were not particularly happy in each other's company! In comparison cousin Joan had three daughters within three years of her wedding.
In 1314 Margaret's life fell apart around her after she was accused of adultery with a knight in her father-in-law's court. More than that, her cousin Blanche was accused of sleeping with the knight's brother, and Blanche's sister Joan was accused to knowing about it and even helping them meet their lovers.
The Tour de Nesle affair, as it's now known, shocked the French court. It came to light after Queen Isabella of England, the sister of Princes Louis, Philip and Charles, noticed that two beautifully embroidered purses which she had given to Margaret and Blanche were being worn by a pair of brothers, Walter and Philip d'Aunay, who were knights in King Philip's court. When Queen Isabella returned to France in 1314 she appears to have told her father what she had seen.
King Philip was concerned enough to order an investigation in to the behaviour of his daughters-in-law. Walter and Philip were followed, and were seen visiting the Tour de Nesle, a tower in Paris, where they were joined by Margaret and Blanche. The four guilty parties were all arrested, as was Joan – who knew about the affair but didn't tell the King or her husband.
Walter and Philip were tortured (although one chronicle claims that one of them escaped to England before being captured and returned, perhaps suggesting more involvement for Isabella) until they confessed to committing adultery with the two royal women. Their execution was particularly brutal. In April 1314 they were publicly castrated, flayed alive, tortured on the wheel (a medieval device which broke limbs) and then finally decapitated. Their remains were kept on display as a warning for any man that might think about 'entertaining' a Royal woman in the future.
Margaret and Blanche were put on trial, where they admitted their respective affairs. Both of them had their hair shaved off, they were dressed as penitents, and were imprisoned in the Chateau Gaillard, where they were kept in the cellars below ground. Margaret, whose 'crime' was considered worse because she was the wife of the heir to the throne, appears to have been deliberately mistreated by her guards. Her marriage to Louis was considered to be annulled (although there was no Pope at the time so it couldn't be officially sanctioned as such) and their daughter, little Princess Jeanne, was declared illegitimate (although many historians believe this was unfair as Margaret doesn't appear to have strayed until after Jeanne's birth).
Blanche faired little better. She doesn't appear to have been as badly treated as Margaret, but she was still kept in a dark, damp environment. Once a new Pope was chosen he refused to annul her marriage, much to the frustration of her husband Charles. She is believed to have had a child by one of the men guarding her, and this appears to have prompted the Pope to finally act. After ten years imprisonment she was allowed to leave. She is believed to have retired to the Abbey of Maubisson, where she died a year later.
Possibly to the surprise of many people, Joan was defended by her husband Prince Philip. She was placed under house arrest for a number of months, but treated more as an honourable hostage, with none of the damp dungeons that were reserved for her cousin and her sister. She was officially rehabilitated and allowed back to court within a year. She and Philip had two more children together, and when he eventually inherited the throne she became Queen of France.
Margaret died some time in 1315. King Philip had died soon after the scandal came out and Prince Louis had become King Louis X of France. But he was still technically married to Margaret, and still in need of a male heir. As such, her death in 1315 was extremely convenient. Some historians claim that she died in April 1315, after falling ill. But others state that she died in August 1315, and just five days later King Louis married Clementia of Hungary and had her crowned Queen. Was Margaret murdered in order to free Louis?
If she was then it didn't do him much good. Louis died in 1316, leaving Clementia pregnant with their only child. Their son, King Jean I, lived for five days before dying. Philip, Joan's husband, became King Philip V. However he and Joan never had a surviving son, so his death in 1322 led to Blanche's husband Charles becoming King. When their divorce was finally granted Charles married Marie of Luxembourg in September 1322. After she died in childbirth in 1324 he married Jeanne D'Evreux. Ultimately he died without a male heir, ending that particular male line of the Capet family.
Ultimately Margaret and Blanche were cousins who were both Almost Queens. Two close female family members coming within touching distance of the throne was quite rare, even rarer was to see two women miss out on a consort's crown because of adultery!
---
Last month's Almost Queen was Isabella of Parma.