Almost Kings - William, Duke of Gloucester
Posted on
At the death of Queen Anne on 1 August 1714 the throne of Great Britain passed from the House of Stuart, to the House of Hanover. Despite multiple pregnancies Anne's only child to live past the age of three had been Prince William, Duke of Gloucester.
Born in July 1689 at Hampton Court Palace, William was recognised from birth as being second in line to the thrones of England and Scotland. The year before his grandfather, King James, had been deposed in the "Glorious Revolution". King William III and Queen Mary II, Anne's sister and brother-in-law, now sat on the throne. As the pair were childless Princess Anne was recognised as their heir, with her children succeeding to the throne after her.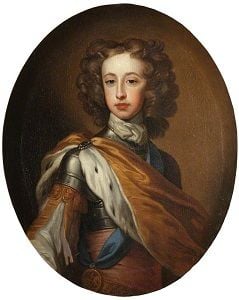 William's birth was greeted with celebration. Here at last was the male Protestant heir who would guarantee the nation's future and religion. At birth he appeared to be healthy, but at 3 weeks old he suffered a series of convulsions that impacted his health for the rest of his life. His mother had him moved to Craven House at Kensington, where the gravel pits were believed to have purer, healthier air. William was even placed in his own miniature carriage that was pulled by Shetland ponies, and driven around the surrounding estate, in order to benefit from the air.
Whatever the original cause of his convulsions (seizures in babies can be caused by ear infections, chicken pox and meningitis), it seems to have led to hydrocephalus. As a child his head was reportedly so big it would fit a man's hat, and his doctors occasionally had to draw off fluid from it. He was unable to speak until he was three, and for some time he refused to walk up stairs without servants holding him. He may have felt unsafe on his own feet if his illness was causing balance issues. However in typical 17th century parenting style his father, Prince George, birched him as punishment. After this William agreed to walk unaided.
As he grew older William's life became a battleground between his mother and his aunt and uncle. King William and Queen Mary were fond of him, often visiting him at his home or entertaining him at theirs. King William complimented him on his miniature army of local children, called the "Horse Guards", while Queen Mary spoiled him with frequent toy purchases from his favourite shop. But Anne had fallen out with the King and Queen, and only allowed the relationship as a way to keep their focus on William as the future heir to the throne.
Mary died in December 1694, when William was just five. His mother and uncle had a public reconciliation, which included Anne moving to St James' Palace with her husband and son, but personally things remained cold between them. The King had a greater say in Prince William's life than his mother would have liked.
For his seventh birthday Prince William became a knight of the Order of the Garter at St George's Chapel in Windsor Castle. The banquet thrown to celebrate left the little boy sick and retiring to bed early, but he joined in the hunt the next day. A year later in 1697, Prince William was granted his own establishment. However King William and Princess Anne fought over appointments to the household, particularly in 1698. King William was eventually persuaded to accept Anne's requests to put her Marlborough friends in prominent positions, but he kept his choice of tutor despite Anne's dislike of the man.
Although Prince William had been slow to talk and unsteady on his feet, he was a fast learner under the tutelage of Bishop Burnet. 17th century education wasn't particularly inspired, consisting of committing facts and dates to memory. But William appears to have had particularly good recall, making him a success. King William also made him an honorary commander of a regiment of Dutch footguards, as his child model army had been disbanded.
On 24 July 1700 Prince William's 11th birthday was celebrated with a party at Windsor castle, including a banquet followed by dancing and a firework display. The Prince threw himself wholeheartedly in to the festivities, and ended up being put to bed feeling chilled and with a sore throat. Over the following two days his temperature rose until he fell in to delirium. No one knew what the cause was, he didn't show any other signs of smallpox. The doctors attending him bled him, but when another physician – Dr Radcliffe – arrived, he claimed that such actions had effectively killed the patient.
Prince William died in the early hours of 30 July at Windsor Castle. He had never been joined in the Royal nursery by a little brother or sister, his death left his parents heirless. He was buried at Westminster Abbey, and the throne eventually passed to a distant cousin, George of Hanover.
---
Last month's Almost King was Prince Albert Victor.