Unlucky Princesses: Isabella of England
Posted on
Some princesses, even unlucky ones, could at least wield some kind of political power. They ruled the domestic side of a court, had a certain degree of patronage of artists and writers, or gained reputations for piousness and charity. But sometimes even a princess can become a virtual cipher to history.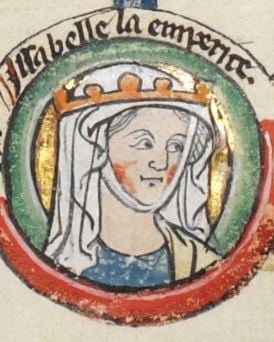 Isabella of England was the fourth child of King John and his wife Isabella of Angouleme. Born some time in 1214, probably in the city of Gloucester, Isabella grew up with her siblings rather than her parents. Her father John died in 1216. Queen Isabella saw her eldest son Henry crowned King of England, but less than a year later she returned to France to claim Angouleme in her own right. With her went her eldest daugher, Princess Joan, who was to be raised in the home of her betrothed, Hugh Lusignan. In 1220 Queen Isabella usurped this arrangement and married Hugh herself, and then refused to send Joan back to England until she received guarantees about her dower.
Very little is known about the early life of Isabella, or her younger sister Eleanor. They certainly didn't join their mother in France. Although Henry was King he was too young to rule on his own, so the regency who ruled in his name no doubt arranged appropriate care for Isabella and Eleanor too. At some point, once she was older, Isabella probably took up a place at her brother's court. Henry didn't marry until 1236, and Joan may have been in Scotland as early as 1221, leaving Isabella to be the first lady of the English court.
In 1235 Isabella was betrothed to the Holy Roman Emperor Frederick II. Aged around 21 at the time, Isabella was marrying a bit late by royal standards. Her sister Eleanor had married young, to the son of William Marshall (also called William). Her older sister, Joan, had been married to the King of Scotland following the collapse of her betrothal to Hugh Lusignan. Had Joan refused to go north, or had she died in childbirth early on, it might have been Isabella who was sent to replace her. However Henry himself was still unmarried, and several potential betrothals had been scuppered by the French. It's possible that Henry's attention was on his own marital plans, leaving Isabella sidelined until someone stepped forward with an offer to marry her.
Reportedly Isabella's marriage came about after a suggestion from the Pope to Emperor Frederick himself. Frederick had been married twice already and wasn't going to take a third wife without some financial benefit. Henry had to find thirty thousand marks as a dowry for his sister, and the resulting tax lead to loud complaints in England. Nonetheless Isabella was suitably catered for, and took a trousseau and a bevy of servants to the continent when she left England that summer. She proved to be popular as she travelled across Europe, even removing her veil so the women of Cologne could see her face. She finally met Frederick in July 1235 and married him at Worms Cathedral that same month. She was crowned on the same day, becoming Holy Roman Empress.
Sadly though the marriage was a farce. Frederick promptly sent all his wife's English servants, bar two women, back to England. Isabella was rarely seen in public, instead she was placed in Frederick's "harem". Her primary residence was at Noventa Padovana near Padua in northern Italy, where her husband periodically visited her. Very little was heard of her from that point on. She's believed to have had four children in five years, of which only two survived.
In 1240 Isabella received a special visit from her brother Richard, Earl of Cornwall. Richard had been on crusade and was now returning to England via a "grand tour" of Italy. However even this visit couldn't release Isabella from her confinement. Frederick threw a lavish reception for Richard, but refused to let Isabella attend. Her meeting with Richard was a private affair, and if he heard any complaints from her he doesn't appear to be publicised them. He was the last family member that Isabella would see. On 1 December 1241 she died at Foggia shortly after giving birth to her last child, believed to be her daughter Margaret. She was, at most, just 27 years old. Frederick buried her at Andria Cathedral next to his second wife, another Isabella. As Empress she might have expected some key public role, and a court to run like her sister-in-law Eleanor of Provence. Instead her life and death were virtually anonymous, and mentioned only in reference to the men in her life.
---
Last month's Unlucky Princess was Madeleine of Valois.