Unlucky Princesses: Madeleine of Valois
Posted on
Like many princesses, Madeleine of Valois wanted to be a Queen. Sadly the man that fell for her was the King of a country whose climate wasn't ideal for a young woman in poor health.
Born in August 1520, Madeleine was the fifth child and third daughter of King Francis I of France and his wife, Claude. By the time of her birth her eldest sister Louise was already dead, but the nursery still had Charlotte, Francis, and Henry. Madeleine herself was followed by Charles in 1522, and Marguerite in 1523.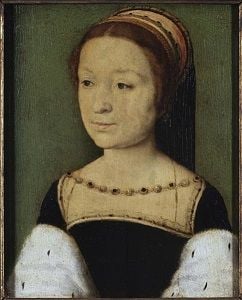 In 1524, just over a year after Marguerite's birth, Claude died at the Château de Blois. Madeleine's sister Princess Charlotte died two months later. The Royal nursery, which was under the care of Madame du Brissac, now fractured. Madeleine and Marguerite were sent to live with their paternal aunt, another Marguerite de Valois, the Duchess of Alencon. A year later Madeleine's father King Francis was captured at the Battle of Pavia, and Young Francis and Henry were sent to Spain as hostages in his place.
Through the political upheaval Madeleine continued to reside with her aunt, even when Marguerite married the King of Navarre. Marguerite was highly educated, and like her mother Louise of Savoy had gained a reputation as a mediator and diplomat. She was an ideal role model for a Royal princess; clever, witty, generous to the poor, and a patron of artists and writers. She wrote and published poems and plays, and kept up a prolific written correspondence. Although little is known specifically about Madeleine's own education, her aunt would have neglected her duty if she didn't ensure that her two nieces were well educated.
In 1530 Madeleine moved again. Francis had married for a second time. His new bride was effectively foisted on him as part of the treaty negotiated with Emperor Charles. The new Queen of France was Charles' sister, Eleanor of Austria. A former Queen of Portugal by her first marriage, Eleanor was the niece of Catherine of Aragon. Although Francis married her and had her crowned at Saint-Denis, he was a reluctant groom and preferred the company of his mistress. Although her marriage was unhappy Eleanor was determined to make the most of her new life. She gathered her Royal step-children around her, including the two surviving princesses.
At some point in her childhood Madeleine appears to have contracted tuberculosis. Her health was fragile, she wasn't strong enough to ride or hunt, and had to be transported in a carriage when the household was on the move. So when King James V of Scotland stated that he wanted to marry her, his proposal was shot down by Francis.
The problem was that France and Scotland had signed the Treaty of Rouen, one of the terms of which was that a French Princess would be given as a bride to the Scottish king. Francis feared an early death for his daughter if he married her off, she was hardly likely to survive childbirth. Instead he negotiated for James to marry Mary de Bourbon, daughter of the Duke of Vendome. Although James initially agreed, even signing a marriage contract, he still wanted a Princess. He decided to pay a visit to France to view Mary, arriving at Dieppe in September 1536. Ultimately he decided that Mary wasn't the one for him. He'd been promised a Princess, and even the promise of a dowry worthy of one of the Royal blood wasn't enough.
James had chosen his time badly. Shortly before his arrival the Dauphin Francis had died. The court was officially in mourning, but King Francis invited the Scottish king to meet with him at Lyons. When they met James reminded Francis that the Treaty of Rouen had stipulated a French Princess for a bride. Francis was now caught in an unenviable position; help James break the marriage contract with Mary, and agree to a new bride. Furthermore King Henry VIII, who was James' uncle, had sent word to Francis that he personally objected to any marriage between the two countries.
Francis managed to juggle his competing issues. Mary was proposed as a bride for the Lorraine family. Henry VIII was facing problems at home so could be safely ignored. The Pope was contacted and agreed to a marriage between Scotland and France. All James needed to do now was pick which of the two French princesses he wished to marry. Francis may have been hoping he would pick Marguerite, who had none of the health problems that plagued her eldest sister.
But James chose Madeleine. It may even have been a love match, when she was well Madeleine was reportedly charming and lively. She actively wanted to be a Queen, after all she was daughter of the Queen of France, step-daughter to the Queen of Portugal and had been raised by the Queen of Navarre. Her family however were deeply upset. Scotland was considered to be a harsh country. The people were uncivilised, and the climate was too cold and wet for someone with her health problems. She had grown up in the comfort and luxury of the French court, the Scottish one would never be able to match up.
But Madeleine insisted, and so did James. The marriage contract was signed in November 1536. Madeleine was granted a large dowry, and James agreed she would be given a variety of properties as her dower. On 1 January 1537 the pair were married at Notre Dame cathedral, with King Francis escorting his daughter to the cathedral. The marriage was celebrated with a banquet, followed by several weeks of parties. Francis bestowed a collection of expensive gifts to his daughter and her new husband, from tapestries to beds, and silver plate to carpets.
As the winter weather improved the Royal family began to move towards the coast for James and Madeleine's departure for Scotland. Madeleine fell ill with a bad fever on the way, and took a long time to recover. They finally reached the coast in May, embarking for Scotland several days later. Their journey was difficult, with bad storms delaying the start of the journey. The ships finally arrived at Leith on 19 May 1537.
Sadly though Madeleine still hadn't recovered her health from her earlier fever. James wrote to Francis asking him to send over another doctor. She was moved to Fife, where the air was considered to be healthy, but insisted on returning to Edinburgh to be near her husband. She might even have convinced herself that she was on the mend. A letter to her father dated 8 June stated that she was feeling much better.
Preparations were being made for her coronation. She was writing to Francis asking for some pearls and robes he had promised her, she may have wanted them for her official entry in to Edinburgh. But the return to better health was only brief. She fell ill again and died in James' arms on 7 July, having never had her coronation. She was nicknamed "The Summer Queen" on account of her brief reign as James' wife. Despite his love for his wife James still needed an heir. A year later he was walking down the aisle with another French woman, Mary of Guise. James' own early death meant that Mary had to step up to an unexpected political role, protecting the throne for their daughter Mary. As a result, and due to the shortness of their marriage, Madeleine tends to be forgotten as James' first Queen.
---
Last month's Unlucky Princess was Margaret of Norway.