Almost Kings - Henry Stuart, Prince of Wales
Posted on
Another one of those "could have changed the course of history" princes, Henry Stuart's arrival was greeted with immense relief by the Scottish court. But it wasn't long before his birth showed the stark division between his parents, which would set the scene for the rest of their marriage.
Born in Stirling Castle on 19 February 1594, baby Henry was the first child of King James VI and his wife, Anne of Denmark. The couple had married in Oslo in November 1589. The years between the marriage and Anne falling pregnant had led to rumours that the couple could not conceive a child together. The birth of a living, healthy male child promptly put a lot of concerns to rest.
The childhoods of James and Anne could not have been more different. James' mother Mary Queen of Scots had been arrested in June 1567 when her son was just a year old. Eventually she was imprisoned in England before being executed. His father Henry Darnley had been murdered months after his birth. A variety of Regents had come and gone from the young James' life, their own lives cut off by murder, execution, and illness. Thus James grew up with no real sense of a close, loving family life. Anne on the other hand had been initially raised in the home of her maternal grandparents in Mecklenburg, before returning to the Danish court. Her mother Sophia was a dedicated and diligent parent who personally nursed her children through a range of childhood illnesses.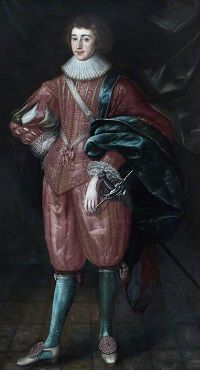 Thus Anne might have expected to be able to create a warm, homely Royal nursery, starting with baby Henry. Instead James placed the infant in the care of the the Earl of Mar at Stirling Castle, and appointed his own childhood nurse to the household. Anne was furious that she was to have no say in the way Henry was raised, and consistently argued that she should be allowed custody of her own son. James not only refused, but gave instructions that Anne was not even allowed to have custody should James die while the boy was still in his minority. Anne had a miscarriage in 1595 that was reportedly caused by how upset she was over James' refusal.
In 1603 Queen Elizabeth died, making James the new King James I of England. Anne finally got her chance to see her son again, refusing to move south to join the King unless she could have custody of Henry. James finally agreed, and mother and son travelled down from Scotland to London together. By this point Henry was an older brother to Elizabeth and Charles, a baby sister named Margaret had died a few months after her first birthday in 1600. Elizabeth joined her mother and brother on their journey to England, but Charles was a sickly child. Rather than risk his life and health with a strenuous journey, he was left in the care of Lord Fyvie until he was well enough to join the family a year later.
Henry's education had begun in Scotland under the tutelage of Sir George Lauder, apparently with regular input from James, who took a keen interest in his son's learning. Henry was educated with his future in mind, studying current national affairs as well as the usual subjects. Unfortunately this put him on course to clash with his father. Not only did he disagree with his father on policy, he disliked his father's favourites and the running of the court. He was reportedly strict on his own household, fining members who were caught swearing, and ensuring the whole household attended regular church services.
His position as heir to the throne also put Henry in the same danger as his father. The Gunpowder Plot of 1605 had the intention of killing both father and son in the explosion. Assuming that Charles would either be killed or too weak to pose a problem, the plotters intended to put Henry's sister Elizabeth on the throne. She was young enough for a Regency to be needed, she could be raised as a Catholic and married to a Catholic prince, and through her the country would return to Catholicism. The discovery of the plot led to a sense of national relief that the King and his heirs had survived, and created a boost of popularity.
As he grew older the gulf between father and son also grew. Henry was handsome, physically strong, and intelligent. His younger brother Charles appears to have emulated him, and his attempts to keep up with his brother led to positive changes in his health over the years. Henry was confident and appears to have been a natural leader. He was interested in affairs of state, was kept abrest of activities in Ireland and the American colonies, and was not afraid to debate policy with his father. In one incident he and James argued while out hunting near the King's favourite lodge in Royston, Hertfordshire. The pair nearly came to blows before Henry decided to leave, and some members of the court followed him rather than stay with the King. They were already starting to mark the rising star, and the potential rewards that would follow when he inherited the throne.
The matter of Henry's future marriage was a key policy area for many years. In 1605 James began to investigate a Spanish match for his eldest son. This was apparently at the suggestion of Queen Anne, who wanted highly prestigious marriages for her children. Spain had Infanta Anne, born in 1601, and Infanta Maria Anna, born in 1606, the original proposal may have been for Anne (who later became Queen of France). By 1612 the Spanish were refusing the match unless Henry converted to Catholicism. Even if James had been willing to support such a demand, Henry had been raised with a series of Calvinist preachers in his household and was a dedicated Protestant.
The match may have been renegotiated were it not for Henry's early death. In October 1612 Frederick, Count Palatine of the Rhine, arrived at the English court as the betrothed of Henry's sister Princess Elizabeth. Their mother Anne disapproved of the match, she wanted Elizabeth to be a Queen. However Henry and Frederick appear to have become good friends in a short space of time. Elizabeth was close to her older brother, and was relieved that he got on well with her future husband.
Sadly the friendship did not last long. During the celebrations for Frederick and Elizabeth, Henry suddenly fell ill with typhoid fever. He died on 6 November 1612 at St James' Palace, plunging the previously joyful court in to deep mourning. Charles and Elizabeth were devastated at the sudden loss of their brother, and Queen Anne was so upset that it permanently affected her health. Henry was buried in Westminster Abbey on 7 December, with Charles as chief mourner.
Like the Black Prince and Arthur Tudor, Henry was considered one of the great losses to English kingship. Charles' problems as King may have been avoided had it been Henry on the throne. In reality Henry may have faced the same accusations of acting like a tyrant, depending on how his own policies turned out.
---
Last month's Almost King was a trio - the sons of King Edward I.