Almost Kings - Sons of Edward I
Posted on
Edward I and his wife Eleanor of Castile are known for having a large brood of children. Eleanor is believed to have given birth to sixteen children. However many of these children died young, and it took a long time before they had a surviving male heir. Edward of Carnarvon was the youngest of the sixteen and the fourth boy born to the couple. Had they survived, any of his brothers would have been King of England instead of him.
John
Naming the eldest son after their paternal grandfather was very common, but it might have been best to skip it in the case of baby John. Edward's grandfather King John had been disaster. But that doesn't seem to have stopped Edward and Eleanor using the name, perhaps they thought they might be able to ensure that King John II would be a better monarch? When baby John was born on 13 July 1266 he was the fourth child and first boy. However his three sisters had all died by the time of his birth. Eleanor's first daughter had been stillborn in 1255, Katherine had died in 1264 at just three years old, and Joanna had died in 1265 before her first birthday.
John seems to have been healthier than his sisters as he lived longer than any of them. But he died weeks after his fifth birth, in August 1271. At the time of his death his parents were on Crusade, John had been left in the care of Richard, Earl of Cornwall, the younger brother of Edward's father King Henry III. The extended family arranged for John to be buried in Westminster Abbey.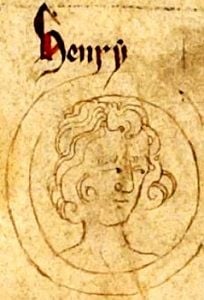 Henry
Henry was born sometime in the spring of 1268 at Windsor Castle. At the time of his birth his older brother John was still alive, making Henry the "spare" to the heir. He was named for his English grandfather. The family don't appear to have recycled first names but had John died before Henry then he may have taken his brother's name as well as his place in line for the throne.
Henry's parents left on crusade in 1270, leaving Henry also in the care of Great Uncle Richard. After John's death in 1271 Henry became the new heir to the throne. John's death was followed by Richard in April 1272, at which point Henry seems to have been moved to live with his paternal grandmother Eleanor of Provence. This was followed by the death of King Henry III in November 1272, while Edward was still in the Middle East. Henry was now just one step away from the throne. Had Edward died in Crusade a long regency would have ensued before King Henry IV would have been of age. In 1273 he was betrothed to Joan of Navarre, who would have been Queen of England (she instead became Queen of France). Toys were provided for the growing boy including a small trumpet and a set of toy arrows.
Sadly Henry predeceased his father too. He fell sick in 1274 while residing at Guildford. Having spent several years in the care of his paternal grandmother Eleanor of Provence it was fitting that she looked after him in his final illness. Edward and Eleanor have come in for criticism for not making the short journey from London to Guildford to visit him. However they had been abroad for most of Henry's short life, his grandmother was the better person to be with him. His mother was also pregnant at the time and it may have been fear of infection that kept the Royal parents away from their son. Like his brother he was buried in Westminster Abbey.
Alphonso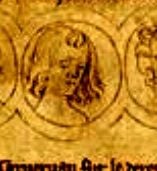 Alphonso, Earl of Chester, has his own earlier blog post on this site. He was born in November 1273 while his parents were residing in Gascony. With big brother Henry still alive at the time there was nothing to suggest that Alphonso would one day be King, he was the spare to the heir. But Henry's death in October 1274 propelled the 11 month old forward in the line of succession.
Given that Alphonso was the last surviving son to be born in to the family for 11 years (a baby boy died shortly after birth sometime in 1280 or 1281, 5 daughters were born between Alphonso in 1273 and Edward in 1284), precautions must have been taken for his health. The Royal nursery appears to have been situated in the Tower of London while the Royal couple resided in Westminster. This gave the King and Queen easy access to their children while keeping them away from the crowds at court.
And like Henry with his toy arrows, Alphonso received his own set of playthings including a model castle and possibly some toy soldiers. As he grew older he was given more grown-up presents, including hawks and greyhounds for hunting. A wife was also proposed for him. Rather than pick up the dropped Joan of Navarre, Alphonso was betrothed to Margaret of Holland. A beautiful psalter was created as one of the wedding gifts for the future happy event.
Bad luck struck the family once more in August 1284, when Alphonso died suddenly while his parents were in Wales. The family were devastated, not only was Alphonso starting to reach the age when he could have been groomed for government, but his death left the only son as a tiny 4 month old boy, Edward. The psalter created for his wedding was instead gifted to his sister Margaret when she married John of Brabant, and now resides in the British Library.
Altogether there were three boys who could have been, between them, King John II, King Henry IV, or King Alphonso I. Instead England got King Edward II. It didn't work out well.
---
Last month's Almost King was William Adelin