Unlucky Princesses: Ingeborg of Denmark
Posted on
A Danish princess by birth and a Queen of France by marriage, Ingeborg of Denmark tends to be forgotten about. The great Royal marriage battle between King and Queen that most people remember, is the one between King Henry VIII of England and his first wife Catherine of Aragon. But Ingeborg's own battle was not only far more protracted, it was ultimately successful.
Ingeborg was born some time around 1174 although the exact date and place of her birth is unrecorded. Her father was King Valdemar "The Great" of Denmark, while her mother was Sofia of Minsk. Valdemar died in 1182 leaving Ingeborg's eldest brother Canute as King Canute VI.
In 1190 the Queen of France, Isabelle of Hainault, died leaving King Philip II a widower. It's unknown whether Philip made the original enquiries about Ingeborg, or whether Canute suggested his sister as a possible bride, but by 1193 a treaty had been negotiated and the marriage agreed. King Philip had requested support from the Danish fleet and the rights of the Danish royal family to the English throne. Canute instead gave ten thousand silver marks, a hefty dowry but not quite what Philip had wanted.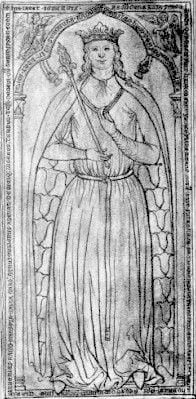 The marriage ceremony took place on 15 August 1193 with the coronation held the next day. But the festivities did not end happily. Philip reportedly started to feel ill on seeing his new wife at the coronation, and soon after the ceremony was complete he tried to persuade the Danes to take her back with them to the Danish court. He claimed that he hadn't consummated the marriage and wanted an annulment. Ingeborg, alone in a foreign country bar the Danes who had accompanied her, fled in to sanctuary in a convent at Soissons. From there she appealed to Pope Celestine III for help convincing Philip that she was his lawful wife.
Philip's response was to have a fraudulent genealogical map drawn up that showed that he and Ingeborg were too closely related for the marriage to be allowed. An ecclesiastical council, based in France and thus under Philip's control, agreed and declared the marriage void. The Pope refused to believe it, especially after the Danes presented their own family tree disproving the French version. Philip then claimed that the marriage hadn't been consummated as he had been made impotent through witchcraft on the wedding night. Ingeborg insisted that this wasn't true either.
Three years after Ingeborg had fled in to sanctuary Philip remarried to Agnes of Merania. They had two children, Marie and Philip, but successive Popes refused to validate the marriage or recognise the children as legitimate. Philip was repeatedly told to repudiate Agnes and return to Ingeborg, but he refused and spent years trying to prove that his second marriage wasn't valid. Ingeborg spent just as much time begging for help and support. Although she had gone to the convent "willingly" she was still at the mercy of Philip. She claimed she was refused proper spiritual guidance, she was not allowed to confess and rarely heard Mass. This was considered to be excessively cruel treatment of a pious woman, and did nothing to help Philip's reputation.
There is still some debate by historians over the real reason for Philip's sudden change of heart over the marriage. Chroniclers at the time claimed he had been struck down by an illness, others sought to place the blame on Ingeborg. She was accused of having bad breath, something wrong with her body, or not being a virgin (the first two excuses were also used by people to excuse Henry VIII's dislike of Anne of Cleves). Alternatively it could be that Philip realised the Danes were unlikely to be particularly useful allies. At best he'd probably bought their neutrality, what he wanted was active support and the use of their navy. Historian George Conklin has also suggested that Ingeborg showed very early on that she was an independent, intelligent woman, who was unlikely to be a silent partner in their marriage.
Whatever his reasons for trying to divorce Ingeborg, in 1213 Philip suddenly agreed that he and Ingeborg had been lawfully married after all. Agnes of Merania had died in 1201, reportedly of a broken heart after Philip dismissed her in an attempt to get the Pope on side. But Ingeborg was wife and Queen of France in name only. Philip continued to live apart from her and she does not appear to have created any kind of court environment of her own. Philip's death in 1223 finally freed Ingeborg. On his death bed Philip reportedly asked his son Louis to treat Ingeborg well, possibly through guilt that he had failed to do so. She spent the last years of her life living quietly in a convent that she had founded near Corbeil, granting generous support to various religious houses and groups such as the Cistercians. She died some time after 1237 and was buried at St John's church in Corbeil. Sadly the brass that covered her tomb was destroyed during the French Revolution, leaving only a drawing of how it looked.
---
Last month's Unlucky Princess was Margaret of Austria.