Unlucky Princesses: Margaret of Austria
Posted on
Although her early life can classify her as an "Unlucky Princess", in many ways Margaret of Austria's life was better than other such royal women. Betrothed and married several times, she was not only eventually allowed to manage her own destiny, but she became ruler of the Netherlands as Regent for her nephew. Through this she joined the ranks of other strong women who managed the region on behalf of their menfolk.
Born in 1480 Margaret was the daughter of Mary of Burgundy and Maximilian of Austria. Mary was the heiress to the wealthy Duchy of Burgundy while Maximilian was next in line to rule the Holy Roman Empire. Sadly Margaret's mother died in a hunting accident when she was just two years old, leaving the little girl and her older brother Philip in the care of their father and their step-grandmother, Margaret of York (sister of King Edward IV of England).
Months after Margaret lost her mother her life was upended again as Maximilian completed a treaty that sealed her future. France and Burgundy had been at war for years and Maximilian moved to find peace with the French. The Treaty of Arras was signed in December 1482 and included the clause that Margaret would be married to the French Dauphin, Charles. Margaret was promptly sent off to France to grow up in the French court. Her education was supervised by the Regent, Anne of France, and she grew up with a selection of other French noble children.
But the French marriage, and the position of Queen of France, never went to Margaret. In 1491 Charles renounced the treaty and called off the betrothal so he could marry Anne, Duchess of Brittany. Anne herself was betrothed to Margaret's father Maximilian, who failed to show up with an army to defend his would-be wife. Anne was forced to agree to marry Charles, and Margaret was left hanging at the French court. She was finally returned to Burgundy in 1493 where she resided with her step-grandmother and namesake.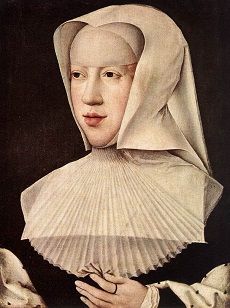 Maximilian was quick to arrange a new marriage for his only daughter. Their Most Catholic Majesties, Ferdinand of Aragon and Isabella of Castile, had one son and four daughters. Their eldest, Infanta Isabella, was due to marry the Portuguese heir. Maximilian picked their second daughter Juana to marry his son Philip, and in return Margaret was sent to marry Prince Juan, swapping the position of Queen of France for future Queen of Spain. At the end of 1496 Margaret left Burgundy once more, this time for Spain. She and Juan were married on 3 April 1497. The pair reportedly fell in love, Juan was entranced by his beautiful, witty bride. But six months later he was dead, probably from tuberculosis, leaving Margaret in the early stages of her first pregnancy. A baby girl was stillborn in April 1498.
Margaret remained at the Spanish court for over a year, finally leaving Spain in September 1499. By March 1500 she was taking part in Burgundian court life, Philip and Juana invited her to be the godmother of their son and heir Charles. Once again Maximilian arranged for her to marry, this time to Philibert the Duke of Savoy. They married in 1501 but Philibert died three years later after contracting pleurisy, he and Margaret had never had children. After three betrothals and two marriages to men who had died young she decided she was done. She vowed to never marry again and spent the rest of her life as a widow. At one point Maximilian and Philip suggested her as a potential bride for King Henry VII of England, after his wife Elizabeth of York died. But Margaret refused, despite pressure from her family. Although she spent the rest of her life dressed as a widow she eventually decided against taking religious vows.
In 1506 Margaret's brother Philip died in Spain. He and his wife Juana had inherited the Kingdom of Castile, and Philip had fallen ill while visiting his new Kingdom. His death left a power vacuum, he and Juana were parents to two sons and four daughters (their youngest daughter was born after he died). Their oldest son, Charles, had been left in Burgundy but was still only a child. Maximilian appointed Margaret as the new Regent of the Netherlands, ruling on behalf of her little nephew and helping arrange his education.
In the time between Juan's death and her marriage to Philibert Margaret had lived with her step-grandmother. She had clearly learned a lot from the older woman. Her court, based at Malines, was modelled on that of the Dowager Duchess. She had inherited personal effects from the elder Margaret including tapestries and jewellery. She negotiated peace with France, negotiating the treaty that led to the League of Cambrai. Although she essentially worked to increase the power of her Habsburg family, keeping the peace allowed trade to flourish in the Low Countries. Her court gained a reputation for elegance and education, especially for young women. One of those women was Anne Boleyn, who spent several years living with Margaret before moving to the French court.
As he grew up Charles originally seems to have resented some of her influence, led by his closest advisor Guillaume de Croy. Working behind Margaret's back, de Croy persuaded Maximilian to let Charles declare himself of age to rule when he turned fifteen. Charles then dismissed his aunt as Regent and set up a council. She was a member but had no vote, essentially she was resigned to the position of advisor without being able to make any decisions. De Croy was a French sympathiser and led Charles down a path that saw him acknowledge that he held Burgundy with permission from the French. It was a mistake that Margaret would have never let him make.
When Charles' grandfather Ferdinand of Aragon died in 1516 Margaret saw her chance. Margaret helped negotiate Charles' accession to the Spanish throne and waved him off with De Croy in his train. Charles realised he would struggle to single-handedly rule both the Netherlands and Spain. Margaret was returned to her former role in 1518. Margaret worked hard for her nephew, even negotiating his becoming Holy Roman Emperor even before her father Maximilian had died. She also spent much of the 1520s helping gather money and men for Charles' various wars. She supported his attempts to stop the spread of Protestantism in the Netherlands. In 1529 she was one of the key figures in the "Ladies Peace", a treaty between the Netherlands and France negotiated between Margaret and Louise of Savoy.
There are two stories of Margaret's death. The first is that she stepped on a shard of glass, which cut her foot and developed an infection. The second is that she suffered from an abcess on her leg for a number of years, which eventually became infected. Whatever the truth she does appear to have developed gangrene from an open wound. She died on 1 December 1530 having tried to fight the infection for nearly two weeks. She left all her possessions to Charles, who followed her wish that she be buried next to Philibert at Brou.
Although Margaret was an unlucky princess in her early life, in many ways she fared much better than other women in this series. She managed to carve out for herself a place as trusted advisor and beloved Aunt to Charles. She didn't die in povery or anonymity, but gained a reputation for diplomacy and education.
---
Last month's Unlucky Princess was Blanche of Bourbon.