Almost Kings - Frederick, Prince of Wales
Posted on
Unless he thought about changing his name, as later Kings did on accession, then Britain could have had it's first King Fred in the 18th century. On his birth in 1707 the idea that the Electors of Hanover would become Kings of Great Britain was becoming more obvious. Queen Anne had no surviving children, and Frederick's great-grandmother Sophia was Anne's nearest Protestant relative.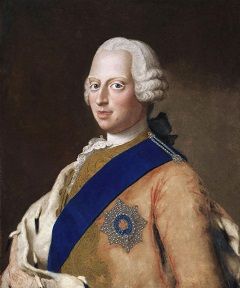 When Frederick's grandfather George became King in 1714 it signified the start of immense changes in the young prince's life. Not only did his grandfather travel to Britain to take up his place as King, but Frederick's parents (George, now Prince of Wales, and Caroline of Ansbach) were summoned to take up their place in court too. However Hanover still needed a figurehead, so Frederick was left behind in the care of his great-uncle Ernest Augustus. At this point Frederick was George and Caroline's only son, his three sisters all accompanied their parents to Britain. Separating a child from his family for fourteen years was not the best way to create positive family feeling.
In many ways though it helped shelter Frederick from the worst actions of his grandfather. When Caroline gave birth to a second son, another George, an incident at the baby's baptism led to the King banishing his son and daughter-in-law from court, while simultaneously seizing custody of their children. Baby George only lived for three months, but the three princesses were handed over to the care of the Duchess of Portland. At least Frederick was spared the sight of his parents being forced from court, but the King also banned them from visiting their eldest son in Hanover. They were also refused any influence over his education or future. At the age of 16 he was the figure of the first serious marriage negotiations for his future Queen. King George had identified a Princess of Prussia as a suitable consort for his grandson, but again his parents were banned from having any influence in the choice or negotiations. The King also issued a series of new titles to his grandson, including Duke of Edinburgh, which made Prince George suspicious that his father would bypass him in the succession and elevate Frederick to King.
When King George I died in 1727 it seemed to be time at last for a proper family reunion. Frederick was now 21 years old, still unmarried as the Prussian negotiations were trailing on (and ultimately failed). The geographical distance and lack of communication between parents and child meant that the new King and Queen were ambivalent, even hostile, to their eldest son. They preferred the son they had been allowed to keep, Prince William, and viewed Frederick with distrust. He was the enduring symbol of his grandfather's behaviour and actions, and all the anger they felt towards the dead King was now turned on their eldest son.
Prince Frederick finally arrived in England in December 1727, having missed his father's coronation. Although he behaved impeccably in the company of his parents, at night he took up a variety of mistresses. He was reportedly part of a group of young courtiers who ran through London's streets, smashing the windows of houses. He quickly became good friends with Lord John Hervey, the pair spent a lot of time together and shared a mistress, Anne Vane. Hervey was bisexual, married to Mary Leppell, he had affairs with multiple women and had a ten year relationship with Lord Stephen "Ste" Fox. His relationship with Ste only ended when the other man married. How far Hervey and Frederick's relationship went is still debated, not helped by the fact that Hervey's grandson destroyed a series of letters between Hervey and Frederick. But ultimately the pair fell out over Anne Vane. Hervey instead became close friends with Queen Caroline and continued to encourage the family's hatred of their eldest son.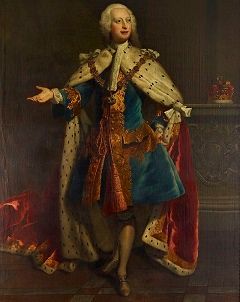 In 1736 Frederick's future was finally settled with a proposal to marry Princess Augusta of Saxe-Coburg. The choice was made by his father, and Frederick simply replied that he was content to marry as his father directed. In reality he was heavily in debt and hoped that a marriage would lead to Parliament granting him an additional allowance. Princess Augusta was seventeen, didn't speak English, and was was married to the Prince less than two weeks after she set foot in England. She reportedly spent the first weeks of her marriage still playing with her childhood dolls, which had been in her trousseau.
Not only did Frederick struggle to get the extra money but his relationship with his parents grew worse. He consistently opposed his father's policies, encouraging his friends to vote against the bills that were favoured by the King. He also manipulated his wife in to snubbing his family. Caroline simply remarked that she pitied the poor woman. By 1737 Augusta was pregnant with her first child. The pair were staying at Hampton Court Palace when she went in to labour in July 1737. Determined to avoid his parents having any control over the birth, Frederick risked the life of his wife and child by carrying her to their carriage and having her driven back to St James' Palace. A baby girl, Princess Augusta, was born on a tablecloth. There wasn't even a bed ready for the labouring princess. Frederick also used the opporunity of his expanding family to go to the House of Commons requesting a greater allowance. The King was furious that his finances might be publically examined, and although Frederick ultimately lost the vote the couple were banned from court. They eventually set up their own establishment at Leicester House, causing huge problems for courtiers who wanted to keep the favour of the current King without risking the displeasure of the future one.
Queen Caroline's death in November 1737 could have brought the family closer together. But she refused to see her eldest son one last time, or offer him any forgiveness. Instead father and son tended to try and avoid each other. Hostesses were careful to ensure that both men would not be present at the same party at the same time. At one point George appealed to Frederick to help save Robert Walpole from being dismissed in 1742, but the prince refused. He was also resentful that his father refused to call him to any military role during the Jacobite Rebellion. Instead Frederick was a devoted father and paid close attention to the education of his children. He personally drafted a work on good government for his eldest son, Prince George. The children were all granted space in the garden that they were expected to tend themselves, and they were encouraged to play various sports outdoors as well. The Prince of Wales was also known for his taste in art and patronage of both painters and writers. He is also credited with increasing the interest in cricket, a game that he played and supported financially.
Sadly though Frederick managed to maintain the Hanover family's dislike of the heir. Prince George was the eldest but his brother Edward was the favourite of both parents. George was naturally shy and lacked self confidence, but his parents seem to viewed it as laziness. Frederick in particular found his quiet eldest son quite exasperating. But the paper he wrote on good government for his son shows the concern that he had for the boy's future. Perhaps if he had become King he would have been keen to train his son in the role of Prince of Wales better than his own father.
Frederick himself never got his chance to enact his ideas for governing a country. In March 1751 he suddenly fell ill, possibly with pneumonia. Although he appeared to be improving a sudden coughing fit one evening suddenly proved fatal. He died in the arms of one of his servants from what's now believed to be a pulmonary embolism. Princess Augusta was pregnant with their daughter, Princess Caroline Matilda, their ninth child. His dedicated wife burned his private papers shortly after his death, ensuring that any incriminating letters or writings were destroyed.
Frederick's death led to only the second time in English history that a grandson inherited the throne, when Prince George finally became King George III in October 1760. The first of course had been King Richard II, who had been deposed. Although George faced huge problems during his reign he at least didn't face the same fate as Richard.
---
Last month's Almost King was Edward, the Black Prince