Unlucky Princesses: Eleanor Woodstock and Joan of the Tower
Posted on
If you want to look at an unhappy Royal family in history, then you don't have to look much further than King Edward II and Queen Isabella. A marriage that was supposed to seal peace between England and France eventually led to a rebellion against the King. While their son Edward III certainly had a happy marriage, the same cannot be said for his two sisters.
Eleanor of Woodstock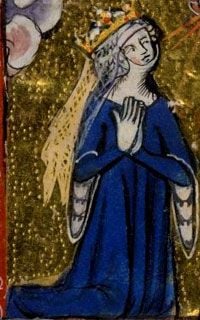 The elder of the two princesses, Eleanor of Woodstock was born in June 1318. Eleanor's childhood featured growing estrangement between her parents, followed by her mother leading a rebellion against her father. She was nine years old when her brother was formally crowned and became part of their mother's puppet government, and she spent a number of years in the care of various noble families in England.
Eleanor's future was the subject of a lot of negotiation as the years went by. The kingdoms of Castile and France were both interested in the possibility of her as a Royal bride. Negotiations with Castile floundered over the dowry negotiations, Prince Alfonso ended up making an unhappy marriage with a Portuguese princess. For the French an English princess would have been a suitable wife for the heir to the throne, Prince John. But Eleanor was pipped at the post by the kingdom of Bohemia, who offered a princess in return for a military alliance.
Instead Eleanor had to settle for an older widower. Count Reinoud II of Guelders had been widowed in 1329, his wife Sophia had left him with four daughters but no sons. Eleanor's marriage was arranged by her brother's mother-in-law, who was helping expand English influence beyond the normal spheres. Eleanor was given a magnificent trousseau and was dispatched overseas. The marriage took place in May 1332 in the town of Nijmegen (part of modern Netherlands).
Sadly for the young princess it was not a happy marriage. Eleanor gave birth to the required heir and spare; Reinoud was born in 1333, and Edward in 1336. But she was much younger than her husband, barely two years older than her eldest stepdaughter. Coming from an unstable family and unhappy childhood Eleanor reportedly clung to her husband, who eventually grew bored and dismissed her from court. He even tried to have the marriage annulled by declaring she had leprosy, but in a rare show of spirit Eleanor reportedly returned to court wearing nothing by a thin shift. With no signs of leprosy the annulment was never going to be successful.
Reinoud died suddenly in 1343 after falling from his horse. His and Eleanor's eldest son was only nine years old at the time. Eleanor made a bid to become Regent in her son's name, but ultimately failed in 1344. After falling out with her son her lands were confiscated and she eventually died in poverty in a convent. She was only 36 years old.
Joan of the Tower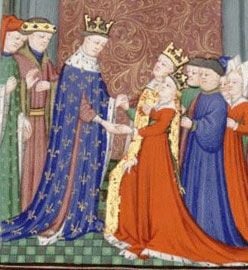 Unlike her older sister, there was very little debate in Joan's future marriage. Her name comes from her place of birth, political insecurities at the time meant that Isabella had to have her confinement in the secure walls of the Tower of London. Political considerations would dominate her life, her marriage was arranged as part of the Treaty of Northampton between England and Scotland in 1328. Joan was promptly sent north in the summer, on 17 July 1328 the seven year old princess married the four year old heir to the Scottish throne - Prince David.
The two children were raised together in the Scottish court. David's early reign was marked by the passing of various regents, before he was forced to flee to France in 1334 after a rebellion led by Edward Balliol (with the assistance of Joan's brother, Edward III of England). David was only eleven, Joan was nearly thirteen. They were offered a home in Chateau Gaillard (which had been built by King Richard I) but very little is known about their time in France.
The Royal couple were allowed to return to Scotland in 1341. Joan was now twenty years old and reportedly a beautiful young woman. But David returned to Scotland with his mistress in tow, leaving Joan somewhat sidelined in her own court. They lasted in Scotland for five years until David was captured by the English at the Battle of Neville's Cross. He was taken to London and imprisoned in the Tower of London and Joan followed. But while her husband was a captive, albeit one held in a certain amount of luxury, Joan was an honoured guest. She resided with her mother, was given a pension by her brother, and received frequent visits from her sister-in-law Queen Philippa and her nieces and nephews.
In many ways Joan's story ends better than most unlucky princesses. Her marriage was a sham, and David had consistently shown his disdain for her. After his release and return to Scotland in 1357 he quickly took up another mistress. Joan by this point had had enough and returned to her brother's court where she was once again a beloved member of the family. She accompanied Isabella on her final pilgrimage and nursed her during her last illness. She didn't live for too many more years, dying in 1362 aged 41. She was buried at London's Greyfriars Church near her mother.
David remarried after becoming a widower. His second wife also failed to conceive any children, and on his death the Scottish throne went to the Stuart line.
---
Last month's Unlucky Princess was Maria Josepha of Bavaria.
If you like the Unlucky Princess series you might like my eBook series - 30 Women in History.