Unlucky Princesses: Maria Josepha of Bavaria
Posted on
If you don't get along with your mother-in-law then spare a thought for poor Maria Josepha of Bavaria. Not only did she get an overbearing mother-in-law in the form of Empress Maria Theresa, but she also had a husband who spent most of their marriage showing his complete disdain for her.
Maria Josepha was born on 20 March 1739 in Munich, the last of seven children, although only four had survived infancy. At the age of four she lost her older sister Theresa Benedicta, followed by her father Charles when she was just six years old. Her mother Maria Amalia was a first cousin to Maria Theresa, and it was on her behalf that Charles, who was Holy Roman Emperor, had claimed the Habsburg lands during the War of Austrian Succession. After Charles' death Maria Amalia persuaded her son to make peace with Maria Theresa, and it was Maria Theresa's husband Francis who was elected the new Holy Roman Emperor.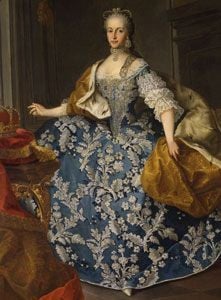 Maria Josepha's mother lived in retirement after her husband's death, and she may have taken her youngest child with her for company. In 1756 Maria Amalia died, leaving her seventeen year old daughter an orphan. As her two surviving older sisters were married she most likely resided at the court of her brother, Maximilian III of Bavaria. Both sisters had married relatively late, in their early twenties, so it should not be too surprising that Maria Josepha was still unmarried at the age of twenty six, when a marriage was proposition arrived from the court of Empress Maria Theresa.
The potential bridegroom was her eldest son Joseph. His first wife Isabella of Parma had died 1763 after contracting smallpox while pregnant. Joseph's only living child was a daughter, and the Empress was determined that he would have a male heir. A uniting of the two families might prevent war in the future, and Maria Josepha was the only unmarried daughter left from that side of the family. Her thoughts on the match are unknown, but Joseph was particularly reluctant. He had adored Isabella and continued to mourn her. He had no interest in remarrying, unless it was to her sister Maria Luisa (who declined the suggestion, not only was she already betrothed but she had no interest in taking her sister's place).
However Maria Theresa was not an indulgent parent. She wanted an heir from Joseph, and so he needed a wife. After a proxy ceremony two weeks previously the couple were formally married in Vienna on 25 January 1765. Although Maria Josepha was, at first, very happy with her husband and fell in love with him quickly her feelings were not reciprocated. In one of his many letters Joseph complained that she had bad teeth, acne, and was too short. In another letter, this time to his former father-in-law, Joseph complained that he had nothing in common with his new wife and would never be able to love her.
Maria Josepha herself was very aware that her husband didn't care for her, in many ways he did nothing to hide it. In fact Joseph managed to arrange his days so that he only saw his wife briefly in the morning when he woke up, at mealtimes when they shared a table, and in the evening when they went to bed. The rest of the court may have taken their cue from Joseph as his wife does not seem to have settled in well, she was mostly isolated and deeply unhappy. She was reportedly a very amiable young woman, but poorly educated (surprising given that of her two surviving sisters, one was a noted musician and the other a diplomat). Joseph wanted a mirror image of Isabella; beatiful, well educated and witty. Maria Josepha would never live up to the idealised portrait of the beloved first wife.
Eight months after the wedding Maria Josepha became Holy Roman Empress when her husband's father died. However the reins of power were still very firmly in the hands of Maria Theresa, and she wasn't ready to relinquish anything to her son, let alone her daughter-in-law. Had Maria Josepha managed to produce the desired heir then things might have improved, but she and Joseph do not appear to have conceived a child during their few years together.
In May 1767, just over two years after her wedding day, Maria Josepha contracted smallpox and died. Joseph stayed well away from his second wife and didn't even visit her on her deathbed, although Maria Theresa visited her (and caught smallpox as a result, however she survived).
Maria Josepha's tomb can today be found in the Imperial crypt, as a Holy Roman Empress she was buried with the rest of the family who had cared so little for her in life.
---
Last month's Unlucky Princess was Juana la Beltraneja.
If you like the Unlucky Princess series you might like my eBook series - 30 Women in History.