Advent Day 14 - Reed Church
Posted on
If you drive along the A10 towards Royston then you may pass by a few signs for the turning towards Reed. You'll probably ignore those signs, but should you decide to follow them then you'll find a small village. Down a side road is the equally small church of St Mary. You'll probably think it's nothing special, but this church shows so much evidence of it's Anglo-Saxon origins that it's second only to the abbey at St Albans. No other church in Hertfordshire has this much original stonework remaining.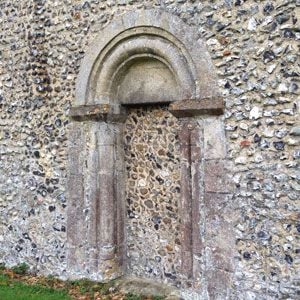 The most obvious Anglo-Saxon feature is a bricked up door, which is more visible on the outside of the church. The doorway itself it blocked with flint, but the Anglo-Saxon stone frame is still very visible, including the Ionic-column pattern carved in to the stone under the capitals (the horizontal stone at the start and end of the arch). More Anglo-Saxon stonework is visible on the corners of the outside walls, and while the tower dates from the 14th century it's believed that it may have been built on top of a smaller Anglo-Saxon base.
More recent additions include the porch, which was built in 19th century, although the door inside the porch is believed to date from the 15th century, as is the carved stone font. The church has very little stained glass as most of it was destroyed in previous centuries. There's a local rumour that one of the smashed medieval windows was buried. When it was eventually dug up it was installed in the church at neighbouring Barkway instead.
It may be a tiny, unimpressive church at first glance, but if you're interested in Anglo-Saxon stonework then Reed church is a must-see!