On This Day: Death of Maria Theresa of Spain
Posted on
"This is the first trouble she has ever given me."
As Maria Theresa lay dying, her husband's words showed the kind of Queen of France that she had been. Quiet, unassuming, supportive to her husband, and loving to their children. King Louis XIV could not have found a better definition of her time with him.
Princess of Spain
Maria Theresa was born in September 1638 the daughter of King Philip IV of Spain and his wife Elisabeth of France. France and Spain had been closely connected by marriage in the previous generation, her parents were the siblings of the King and Queen of France, as King Philip's sister Anne had married Queen Elisabeth's brother Louis. Like many such marriages between France and Spain, the weddings had been decided upon in an attempt to bring peace between the two countries, unfortunately it didn't work.
She grew up in the strict formality of the Spanish court, which encouraged solemnity and serious pasttimes. Her mother died when she was just six years old, and her father remarried several years later. Maria Theresa does not appear to have got on well with her new step-mother, and so may have lacked the kind of warm, affectionate home that her future husband had.
Queen of France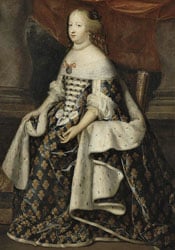 After many years of war a peace deal was brokered between Spain and France, and was to be sealed with a marriage between Maria Theresa and Louis XIV. They were the same age, in fact there were only a few days age difference between them, and the marriage had been hoped for for many years by Louis' mother Anne. Any potential courting between the afianced couple was stifled by Maria Theresa's father, who refused to let his daughter even read a letter from her future groom, and who strictly supervised their first meeting shortly before the wedding (in fact he banned Louis from even being in the same room as Maria Theresa, an order that the King of France tried to evade by lingering in the doorway while his brother chatted to the princess, King Philip continually refused to allow him in to the room).
It's reported that on their wedding night, Maria Theresa made her husband promise to never spend a night sleeping away from her. Whether or not this was true, it certainly was a habit that Louis stuck to, although it wasn't enough to prevent him having many affairs through their marriage. His wife found herself settling in to her new home, with help from her aunt, who was thrilled to have another Spainiard at court. There was no bickering between mother-in-law and daughter-in-law, instead the pair of them frequently prayed and visited convents together.
In fact Maria Theresa was a little too Spanish for the French court. Her new home was one that loved innovation, fashion, dancing and wit. Her upbringing had left her rather shy, she preferred to keep to herself with a select group of companions, and she wasn't fashionable or quick enough to be a leader of the court. Despite this, she was a good Queen to Louis. She was upset by his frequent affairs, but realised there was nothing she could do to stop them. She even sponsored one of her husband's former mistresses, Louise de la Valliere, when she decided to retire from court and become a nun. Louis in turn protected her from any disrespect on the part of his other women, rebuking them when they declined to show her the deference required by her position. For over ten years her main rival was Athenais de Montespan, whose disrespect as well as her place by the King's side infuriated Maria Theresa.
If royal marriages were designed to create peace and provide an heir, then Maria Theresa failed in the first part, France and Spain were still consistently at war over the years. But in the second part she succeeded, as she gave birth to six children, of whom three were sons. The first, also called Louis, was born on 1st November 1661. Sadly it was only this eldest child who would outlive her, her eldest surviving daughter lived for five years, and her other children mostly died within weeks of birth.
Maria Theresa's own death would come as a surprise, as her illness was sudden, and her decline swift. She reporedtly surprised the court by never complaining about the agonising treatments she went through, medical intervention still didn't include any pain relief. She died on 30th July 1683, leaving her husband to utter the simple, but evocative, summation of their life together.
---
Interested in biographies of Royal women? You might like my Unlucky Princess blog series.
Fan of King Louis XIV? He has a badge!