On This Day: Wedding of Henry VII and Elizabeth of York
Posted on
On 18th January 1486, Elizabeth of York married the recently crowned King Henry VII of England. The wedding had been a long time coming, and multiple English nobles had pressured Henry to ensure that he went through with a promise he had made in 1483, and help end the Wars of the Roses.
Exiles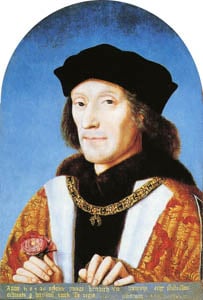 Henry Tudor, as he had been known before becoming King, had spent fourteen years in exile. First in Brittany, where he had fled with his paternal uncle Jasper Tudor, and then France when Brittany allied with King Richard III. He was the male heir to the House of Lancaster's claim to the English throne, and therefore a focal point for rebellion against the House of York and their kings; Edward IV and then Richard III.
Elizabeth on the other hand had had a mostly stable childhood. In her infancy her father had fled to the court of Burgundy and her mother had sought sanctuary with Elizabeth and her sisters. This "exile" from the English court had only lasted months before Edward had returned with a small force, gathered an army, and then defeated both the Earl of Warwick and Margaret of Anjou at the Battle of Barnet and Battle of Tewkesbury respectively. This was to be the last set of major battles for a good few years, and once Margaret of Anjou was in prison and her husband and son, King Henry VI and Edward of Wesminster, were dead there was no other Lancaster contender to the throne besides Henry Tudor.
Their lives therefore had been very different. Henry had been supported by his uncle, a long way away from his mother Margaret Beaufort. His childhood had been spent in England, and he had received a good education, but life as an exile was always dangerous. He could have been arrested and sent back to England for imprisonment, or killed if someone thought it might earn them favour with the King. If they struggled to find patrons in Brittany or France then both he and Jasper would have been forced to travel further afield for help, with no guarantee of a warm welcome. Meanwhile Elizabeth had grown up in the centre of a close family, with both her parents frequently spending time with their children. She was betrothed to the French dauphin when she was nine, if the match had gone ahead she would have become Queen of France, but it was called off by the French in 1482.
Her life had fallen apart in 1483 when her father Edward IV died. Her uncle Richard moved faster than anyone expected, taking her brother Edward in to his "protection", while the rest of the Royal family fled in to sanctuary in Westminster Abbey. Elizabeth's mother was eventually persuaded to give up her second son, Richard, and both he and young Edward became known as the "Princes in the Tower" after they disappeared.
A Promise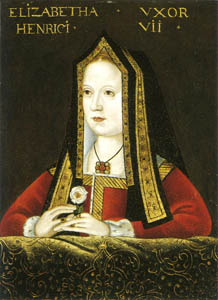 On 25th December 1483, Henry Tudor went to Rennes Cathedral and publically swore that he would marry Elizabeth. If the marriage went through it would unite the two opposing families and their rival claims for the throne, and hopefully create a lasting peace. It also showed any York supporters who disliked Richard III that there was an alternative, through Elizabeth the York family would still have a connection to the throne. Nowadays we would expect that Elizabeth herself could claim the throne, but at the time a reigning Queen was not something people wanted, not when there was a male alternative in the sidelines.
But after Henry won the Battle of Bosworth Field he didn't rush to marry Elizabeth. He was determined that his reign would be his alone, and that his enemies would have no reason to claim that Elizabeth was the rightful monarch. He had himself crowned in October 1485, claiming the throne by conquest rather than through his marriage. The potential wedding was delayed, probably to allow Henry time to be seen as King in his own right, but in December a petition was read out in Parliament requesting that he honour his original promise. A few weeks later, on 18th January, the wedding ceremony was performed in Westminster Abbey. They went on to have seven children, although only three outlived their parents and became King Henry VIII of England, Queen Mary of France, and Queen Margaret of Scotland.
(Don't forget to check out my shop, where I have badges for both Elizabeth and Henry!)